Contact us to buy Fox Falcons:
Email: sales@falcons.co.uk
Call or WhatsApp: +44 7790 956179

International Wildlife Consultants (UK) Ltd is one of the oldest established falcon breeding facilities in Europe; having bred Fox Falcons since 1975 and exporting to the Middle East since 1987.
IWC (UK) was the first falcon facility in the UK to qualify as a CITES registered breeder. We have supplied the Royal Families of the United Arab Emirates and the Royal Family of Bahrain for 23 years. Many falcons have been sent back for breeding. Our bloodlines include proven stock retired from the royal hunting falcons. We also hold falcons belonging to the Queen and to Prince Andrew, Duke of York.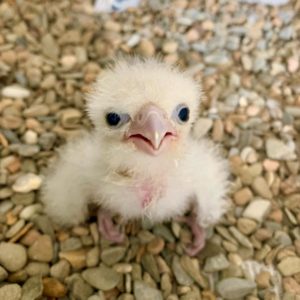 View our gallery of Fox Falcons
We have more than 150 breeding chambers producing some 300 top-quality, young falcons each year. Our breeding stock includes 100 pure gyr falcons from some of the finest blood lines and genetics worldwide. Particular attention has been given to bloodlines specific to white and black gyrs. We hold DNA data from all falcons at IWC. This enables straightforward and uncontroversial identification of each falcon, as well as providing a database of relatedness between individuals. On request we are able to provide a full pedigree showing parentage and direct ancestors.
Falcons are bred by natural pairs and voluntary insemination. Natural pairs tend to start breeding for the first time at 3- 4 years of age, but we do have some lines of falcon that have bred at two years of age. Careful attention to parental pairing and the rearing of young produces top quality falcons each season. Our imprint females are Gyrs, Gyr Hybrids and Peregrines. They are in purpose built aviaries and each falcon is chosen for its quality, size, and the bloodline's hunting history.
Parent-reared falcons are placed with their parents or foster parents at day 7 and monitored by CCTV. This method avoids the onset of the imprinting process. We regret we cannot provide customers with imprinted falcons due to existing commitments, but you are welcome to collect young birds early so that you can imprint them personally.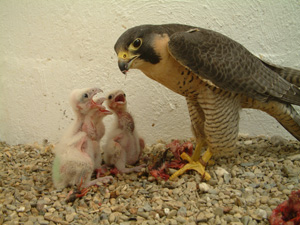 Our 10 hack pens range in size from 5,000 up to 10,000 square feet. Young falcons are moved into these spacious surroundings from the age of 8 weeks onwards. This allows juveniles to develop muscle and flying skills before being taken up for training.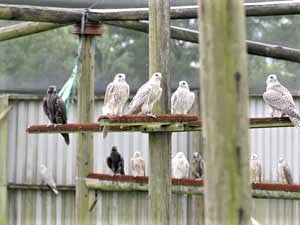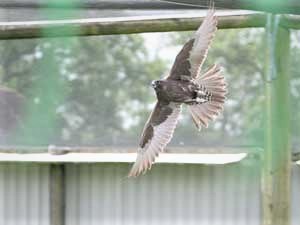 See our terms and conditions for purchasing a falcon.